If you are networking you may be keen to get your hands on some business cards. Asking for business cards from your peers, professional connections, colleagues and even your clients will allow you to have their details on hand whenever you need them.
By asking for a business card, you are letting the other person know you're interested in becoming part of their work circle. If you're lucky, ask for their business card and they'll also ask for yours – and getting as many of your own business cards 'out there' as possible will help to spread brand awareness and get you recognised by professionals in your industry.
There are actually many etiquette rules when it comes to asking for business cards. Because of this, it's important to consider both how you ask for a card, and also time it right.
Although this can be daunting at first, especially if you are new to the business world, do not fear! Here are some tips you can use to help you the next time you want to ask for someone's business card.
When Should You Ask for a Business Card?
In western society, immediately asking for a business card upon meeting someone is considered to be inappropriate. This is because you have not yet got to know the person in any capacity. You don't have a good idea of what they do, or the services/products they offer – so why are you asking?
Asking for a business card too soon can come across as a little too eager and unprofessional. It might also be interpreted as an excuse for you to offer your own business card, which may make you seem desperate and could reduce the chances that they'll get in touch.
If you are meeting someone for the first time it is best to engage with them first. Having a good conversation will allow the other person to see you are interested in them and what they do. This is the first step in forming beneficial relationships with others in your network.
It also means it is a good idea to ask for someone's business card when you feel your conversation coming to a natural end. Doing this will show the other person that you are not just a card collector but are genuinely interested in them and/or their company.
How to Ask for Someone's Business Card
When it comes time to asking for their business card, how should you phrase it? Here are some ideas for how you can word the all-important question.
"Do You Have a Business Card?"
If you are meeting someone casually or you are not sure if they will even have a business card you can phrase it in this low-pressure way.
Some people choose not to have a business card, or may not always carry theirs with them. Some may have a virtual business card they can link you to, rather than handing you a slip of card.
This would also be the perfect question to ask if you have spoken about keeping contact or wish to contact the other person. Since business cards traditionally feature contact details you could ask, "I'd love to contact you to chat about this some more – do you have a business card?"
Not only is this polite, but it also gives you the opportunity to form a relationship beyond the card. Of course, don't use this phrasing if it's painstakingly obvious that the person does have a business card – e.g., you can see them on their desk.
"May I Have a Business Card?"
At business or corporate events you can expect that most people will have (and bring) business cards. Business card trading is a prominent feature of events such as these which makes them a great opportunity to gain contacts.
At events such as these, you can expect conversations to be much shorter as they are normally very busy. This means it wouldn't normally be considered rude to ask for a business card after a short chat.
If you are getting along with someone you can say "I think we would work well together, may I have your business card?"
You can also phrase this in a slightly less formal way, if you feel that it's appropriate for the tone of your conversation. For example: "I've really enjoyed our chat – any chance I could grab a business card?"
"Here's My Card"
In professional discourse, if someone gives you their business card, it is polite to give yours in return.
You can use this in your favour by initiating a trade with people you would like a card from. You can do this by handing one of your business cards to the person, and saying something along the lines of "if you'd ever like to get hold of me, here's my card."
Most professionals, when given someone's business card, will automatically hand one of theirs over as well. This is a particularly useful technique if you could both benefit one another in some way – but obviously, it won't work if you don't have a business card.
If you don't have a business card, we'd recommend getting one as soon as possible. They are quick and easy to create, and helpful in any professional situation. Even the fact that you have a business card in the first place will make you come across as professional.
When choosing a business card you can create your own from scratch, or customise one of the thousands of high quality templates available.
How Can I Get Someone to Ask for My Business Card?
Of course, as well as asking your professional contacts for their business cards, you'll want to distribute as many of your own as possible. So how can you encourage whoever you're interacting with to ask for your business card?
1) Listen! If you make someone feel validated or show you are interested in working with them, they are much more likely to ask for your card.
2) Repeat. To show someone you're taking in what they're telling you, an effective psychological tool is to repeat what they've said back to you, but in a different phrasing.
3) Relate. Don't interrupt, but when they're finished speaking, relate what they've said back to your business in some way. If they mention a problem, offer a solution.
4) Stand out. Talk about your niche and show how you are unique compared to your competitors. This show people that if they want anyone's card, it should be yours.
5) Be a good conversationalist. If people find you easy to talk to, they are much more likely to want to talk again and will almost always ask for your business card
6) Be approachable. If you do not seem approachable people may be nervous to ask you for your card. Always be polite and open to talk.
And of course – handing out your business cards is only half of the story. The type of business card you have on offer can have a huge effect on whether or not they will actually get in touch. You'll want to make sure your card is unique, professional, and stands out in their minds.
Where Can I Order Professional Business Cards?
There are thousands of great business card templates waiting for you at 123Print. In most business settings, sleek simple designs in colours like white, black, grey or navy blue will always be a hit.
If you are finding it hard to choose, designs like Broadwalk, Basic Grey and Blue and Grey would be fit perfectly in any professional environment.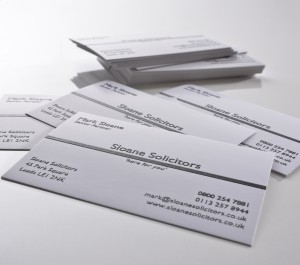 At 123Print we pride ourselves on our 100% customer satisfaction guarantee. This means if you are not 100% in love with your high-quality business cards, we'll re-print them or give you a full refund.
We also offer 48-hour delivery, and ordering couldn't be simpler with our huge range of pre-made templates and easy-to-use editor. If you don't fancy customising a template, "create your own" feature allows full card customisation on a blank white background, so you can create a business card that is perfect just for you.