Superheroes have flooded screens of every size, dominating the box office and our TVs at home. With so many heroes running around, it can be difficult to know who to contact if you ever need them. Luckily, we're on the case, and one of our designers had some fun whipping up a couple of business cards for your favourite caped crime-fighters to leave once they've saved the day for us scared, helpless civilians.
Click through our designs to see them in full-scale. You'll definitely need to for Mr. Lang!
Mr. Banner

Remember to take care of your cards, even if you're tearing through tanks and buildings.
Mr. Murdock

For those of you wondering, the braille reads "don't judge me by my movie"!
Mr. Kent

Kryptonite is a harmful substance that can cause mood swings, mutations, and even remove your superpowers (providing you're from another planet).
Mr. Wayne

For those who work alone. Or at least refuse to acknowledge all of the help they receive.
Ms. Prince

Let's hear it for the girls! And the next time you're in danger, don't forget about the Amazonians.
Mr. Lang

You might need a microscope for these designs, though just remember big things can come in small packages.
Mr. Stark

Not every superhero is humble. Sometimes you've just got to show off the goods
Mr. Parker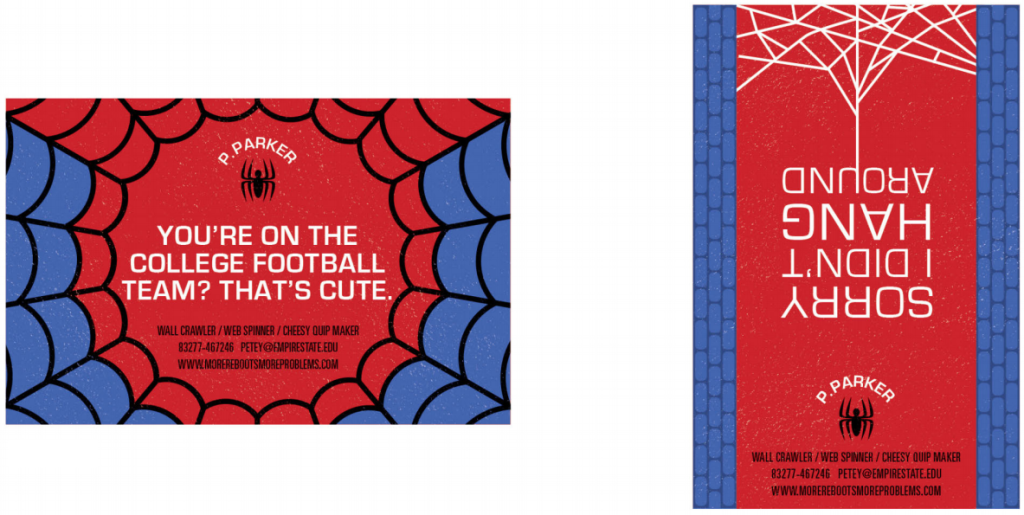 Superheroes come in all shapes and sizes, and from all ages! Some people just have a little crazier 'extra-curricular activity' than others.
Be sure to check out the rest of our design over on page two. Unfortunately, these aren't for sale, but why not try to make one of your own personalised business card?
Comments