When sending out party invitations, especially for an informal bash, it can be easy to default to simply sending a text message to your guests.
However, a text message (or e-mail, or Facebook event) is not always the best way to communicate important details about your party. It also runs the risk of coming across as too casual, meaning that your invitees may not feel the need to RSVP. This could cause havoc with your party planning!
Sending a text might work for a very last-minute party, if there's no time to post or hand out paper invitations. But for all other scenarios, physical party invitations are by far superior. Designing your own invitations is a fun way to spread the word about your event, get your guests excited about the theme, and ensure everyone invited will have all the information they need. It also elevates your event and ensures that guests will take it seriously.
With thousands of designs to choose from, you can start collecting RSVPs in no time with help from your chosen party invitation!
Are Paper Party Invitations Better than a Text?
Party invitations come in a huge array of colours and designs, whereas a text message is just that – text on a screen. There's so much more scope for theming and fun with personalised party invitations.
While it's super convenient to send a text, it doesn't get anyone excited for your party. It also comes across as a lot more casual, so if you really want people to RSVP (and actually turn up) then an paper invite is the way to go.
If your party doesn't have a theme, you can go with a standard party invite in a relevant colour scheme. If your party does have a theme, you can make this the first thing your invitees see with a themed invitation.
Paper party invitations also allow you to be more specific about the dress code, gift list, start and end times – all because you've got the space to write whatever you'd like.
Is It Ever a Good Idea to Invite People to a Party Through Text?
That's not to say that text messaging is never useful. It might be appropriate to send a text to your invitees in the following circumstances, for example:
1) You are hosting a children's party and you want to make sure parents received invitations – especially if they were handed out at school
2) You haven't heard back from one or more of your invitees, and you want to check they are attending
3) The details of your event have changed and you need to let guests know (for example, the date or venue)
4) You want to send a generic SMS a couple days before the party just to remind everyone
5) You're planning a last-minute party (i.e. a few days in advance), and there simply isn't enough time to send out paper invitations
6) You're planning a surprise party for someone you live with, and can't risk your paper invitations being intercepted
For most parties, however, paper invitations are definitely the way to go. You may worry that they're too formal – but the beauty of party invitations is that they can be entirely customised. You can word the invitation as formally or as casually as you'd like.
Do Printed Party Invitations Work for All Guests?
Paper invitations work well for all ages, from kids to older family members. The same, unfortunately, can't be said for party invitations sent through text.
There's a strong chance your older guests may not use a mobile phone, or be proficient in SMS messaging. Because of this, there is a chance you could miss some of your important guests by only sending text invitations. Not only this, but even guests with mobile phones may miss a text (their inbox may be full, for example, or they may be too busy to check their notifications).
Paper invitations, either handed out in person or sent in the post, solve this issue. Sending out paper invitations will ensure no one is left out or misses the memo due to communication issues.
If you are sending out invitations for a children's party, it's also best to send a paper invitation. Kids particularly love handing out invites to all of their classmates at school! (That being said, you may want to follow up with a text to parents, on the off chance that an invite goes missing.)
Do Paper Party Invitations Work with Large Gatherings?
It is especially important to send out paper invitations if you are having a large event. If you are having caterers or hiring a venue, it is important you know who is coming to your party. Your venue and caterers will require a head count at least a few days in advance of the occasion.
When you send a text, it's easy for it to get lost in people inboxes. Guests may forget they were invited, or never get back to you with an RSVP. This is because sending a text as a party invite comes across as very informal – guests may not realise the size or organisation going into your party.
To avoid this, send a paper invitation. Invitees are more likely to remember receiving your invite and may even stick or magnet it somewhere in their home. It also shows them that your party is more formal, or a larger occasion and therefore they need to RSVP.
Large parties like age milestone birthdays can take lot of organising and you may be worries about sending out such a large volume of invitations. With 123 print arranging invitations is easy and stress free, so you can focus on other tasks.
Ordering customised birthday invitations elevates the experience you and your guests have of your event. They also help you save time.
With personalised party invites, you can choose a template it and edit it to include your own wording. This means you can include all the necessary information (such as location, date, start time and dress code) on the invitation. This makes it easy for your guests to know where to go and when, and what's expected of them. You can also change the colour scheme and font style, and even upload your own artwork directly to the invitation, for a truly personalised piece of stationery!
More importantly, you will not have to worry about writing or typing information over and over, as you might with a text. When you receive your personalised invitations in the post, all you have to do is address the envelope and send them on their way.
The best time to send out party invites is 3-6 weeks before your event. This gives your invitees a good amount of time to book off of work and arrange childcare, and for you to gather your RSVPs. However, if your guests will have to travel or if you're planning a party at a busier time of year (such as Christmas), it's best to give a couple of extra weeks' notice.
Here at 123Print, we aim to dispatch all orders within 48 working hours of customer proof approval. This means that your invitations will be with you quickly – perfect for even a last-minute bash!
At 123Print, we offer a large range of high quality invitations for any occasion. Having a casual children's party? Try this fun Coloured Balloons invite. What about a housewarming party? You could consider the elegant Kitchen Trousseau invitation. Or maybe you are having a glamorous black tie party, which our ever-popular Enchanted Evening design would be perfect for. Hundreds more designs are available, including themed templates, all of which are fully customisable.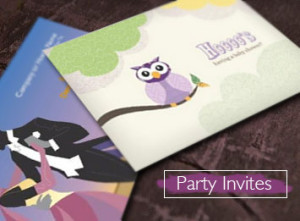 You can order stress free with our 100% customer satisfaction guarantee – if your invitations aren't perfect, we'll refund or re-print them with no questions asked. We also offer 48-hour dispatch and a low price guarantee, with no hidden charges to worry about. Our standard party invitations start at only 40p each.
Order today and start getting those RSVPs!
Comments