The venue has been booked, the invitations sent out, and the food is being organised, but all of a sudden, you have to cancel the party. What a nightmare!
Whether it's a kid's birthday party, an anniversary party or a baby shower, one of the most challenging things to be faced with is having to postpone and rearrange a party or other celebration. Not only do you have to face the chaos of re-booking the party venue, catering, and everything else, but you also have to somehow communicate the new date to all of the guests -and hope that they don't take umbrage to it.
Never fear, however: rescheduling a party doesn't have to be a logistical nightmare, as long as you follow this simple step-by-step guide. We will take you through the process of cancelling and rearranging a party, and explain the etiquette of sending out new invitations with the revised date and venue information.
Why Might You Need to Reschedule a Party?
Nobody wants to have to rearrange a party, especially if it's at the last minute and you've spent so long planning and organising it. However, there are many good reasons why you may have no choice but to postpone the celebration. For example:
1) Illness or injury
2) Family emergency or bereavement
3) Bad weather preventing you from accessing your party location, especially if you're holding the celebration outdoors
4) Double bookings for the date of your party
5) Government guidelines coming into effect that prohibit large gatherings (due to COVID-19, for example)
No matter the reason, it is essential to keep your guests informed on the changes so that they can be prepared and not inconvenienced. In addition, it's crucial to have a rescheduling plan in place just in case there are any changes to your party.
For this guide, we will go step by step on how to cancel and reschedule a party due to unforeseen circumstances.
How to Cancel and Reschedule a Party
While cancelling a party is never easy, sometimes it simply cannot be avoided. Factors to consider include: if the venue is double-booked on the new date, or there's been a pandemic warning or bad weather warning, which might tip your decision over whether to reschedule or cancel the event.
From here, you should examine every possible option to avoid rescheduling if possible. For example: if the issue is bad weather, could you simply move the party to an indoor location, rather than moving the date of the party?
If there's no way to avoid rescheduling the party, here are the steps you should follow.
Step 1 – Contact the Venue and Suppliers
The first step is to contact the party venue, as well as any and all suppliers you may have booked for your party, and let them know that you have to cancel. For example:
1) Caterers
2) Entertainers
3) Live music
4) Rental companies for decorations, chair covers, cutlery and crockery, etc
5) Cake baker
The sooner you contact everyone, the more likely it is that you won't lose your deposit. Hopefully, they'll let you reschedule the booking for a new date, without charging you any extra. Unfortunately, this may not be the case if you're cancelling the party at very short notice. If you have a very good reason for rescheduling the party, though (such as a bereavement in the family) you may find that they're more understanding.
Obviously, if you're simply hosting the party at home and preparing all of your own decorations and food, this is a step that you won't have to worry about. Phew!
Step 2 – Decide on the New Date
Once the venue and suppliers have been contacted, it's now time to liaise with them all to find a new date that works. If you can't find a date that works for every supplier, unfortunately you may have to prioritise some over others.
Don't forget to speak to the most important party guests to make sure that the new date works for them. For example, if it's a baby shower, speak to the pregnant person. You wouldn't want to book a new date without checking with the VIP!
Try to choose a new date at least two weeks later than the original one so that your guests have sufficient time to rearrange their schedules and not be inconvenienced. Then, re-book the venue and suppliers as soon as possible.
Step 3 – Communicate with Your Guests
Once you've officially cancelled the party and re-booked it for a future date, it's time to let all of your guests know.
Of course, the best and most formal way to do this is to send out a new party invitation with the revised date. However, if the original date of the party is coming up very soon, you may have to contact them using a quicker method first, to ensure that they don't get the memo too late.
There are several ways of doing this:
1) Call each guest personally to tell them
2) Send out a mass text message
3) Send out a mass e-mail
Obviously, tailor this to your guests. For example, if you know that Aunt Susan never checks her e-mails, it would probably be best to call her.
If you've created a Facebook event or a website for the party, update it with the new date and time as well. However, your guests may not get a notification about this, so be sure to contact them personally to make sure they know.
Step 4 – Send Out New Party Invitations
Once you've let your guests know that the party date is going to be changed, you should send out a new party invitation to formally communicate the new date. This is especially important if you're moving your party from one venue to another, or changing any other details about the party (such as the start time).
Choose a party invitation that matches your theme, and include the new date and time. Even if the party location hasn't changed, include the venue on your new invitation anyway, otherwise your guests will all be calling you up to check that it's still in the same place.
People may have planned around coming to your party on a specific day at a particular time in a specific place, so having this information included on the invitation is essential. In addition, this will allow your guests to rearrange their schedules or let you know if they can no longer attend.
How to Word a Rescheduled Party Invitation
So, when you're informing your guests that you've had to reschedule your party, how do you actually word it? Here are some examples to help you find the perfect phrasing.
Party Rescheduling Email Example
If you're informing your guests through email, it's easiest to send a mass message to everyone, rather than contacting them all individually. For example:
Hi Everybody!
I hope this message finds you well. Unfortunately, I need to change the date of my party due to (insert reason or situation). The new date is on (insert new date) and will be held at (location) starting at 8:00. I apologize for the inconvenience and hope that you can still make it!
Regards,
Sam
However, if you've only got a few guests, you might want to personalise the email for each individual.
Dear __________,
I hope you're well! I'm sorry to tell you that our party is being rescheduled due to (insert reason or situation). I've attached the new date below. Please let me know if you can still attend or if the new date doesn't work for you.
I look forward to seeing you soon!
Regards,
Sam
Cc: (host's contact info)
Attachment: New Date & Location of Party
Party Rescheduling Facebook Post Example
If your party has been mainly planned online (like in a Facebook group, for example), then you can communicate the new date and location of your party in the same way. Just be sure to tag whoever is hosting, so they receive notification of your post.
Hi Everybody!
I'm sorry to say that I need to change the date of my party due to (insert reason or situation). The new date is on (insert new date) and will be held at (new location) during the same time. I hope you're all well and, again, apologize for this inconvenience!
Don't forget to change the date of the Facebook event as well as creating a post in the group.
Rescheduled Party Invitation Wording
It's vital that you send out a new party invitation as soon as possible with the amended details. The most important thing is to make it clear that this is a postponement notice, so that your guests pay attention to the new date. For example:
Jen's baby shower
Has been rescheduled
For 20th April 2022
At one o'clock in the afternoon
We apologise for any inconvenience
Or alternatively, for a less formal feel:
Let's try that again!
Due to unforeseen events, Jackson's birthday party
Will now be held on:
20th April 2022
At 1pm
Thanks for understanding!
Where Can I Order Party Invitations?
When you reschedule a party, the most important thing to do is to ensure that your guests are all notified as soon as possible. You can send out invitations or tips announcements with the new date, time, and location of your party so that they're aware of the changes. Whatever you do, don't leave your guests in the dark!
At 123Print, we offer a huge range of party invitations suitable for any theme – from kid's birthday parties to weddings, engagement parties and more. For example, this sweet owl design would be perfect for any baby shower.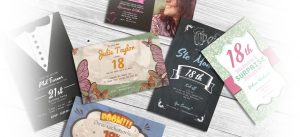 Simply have a browse through our extensive selection of party invitation templates to find the perfect choice for you. Then, use our easy editor to add your details and alter the wording to your liking.
We'll dispatch your order to you within 48 working hours, so you can send those all-important invitations out to your guests as soon as possible. And with our 100% satisfaction guarantee, you can rest in the knowledge that should anything go wrong, we'll do whatever we can to make it right!