Personalised stamps are a great way to set business correspondence apart and increase brand recognition. The best thing about personalised self-inking stamps is that they're so easy to use. All you have to do is stamp your information onto a piece of correspondence, send it off, and voila! It's that easy.
Stamps come in many shapes, sizes, and colours. They can be customised with your company's name, tagline, address or contact number. Rubber stamps make business correspondence faster and easier for busy people; stamping your information on the mail or an envelope takes just seconds. And you'll save plenty of time with bulk mailings too. You just need one stamp for each envelope you send out. So there's no need to spend the extra time writing out mailing addresses on every letter you send.
A rubber stamp is, as you likely already know, a rubber tool etched with a design (shape, logo, or text). Traditional rubber stamps are dipped into ink and then pressed onto paper; however, self-inking stamps are a modern improvement, and are much easier to use.
Personalised rubber stamps can be customised with any text you'd like. Smaller stamps are great for stamping your business's name or contact telephone number, while larger stamps can fit your business address as well.
You can also get stamps that use images, such as loyalty stamps, which are designed for stamping a small image onto a loyalty card.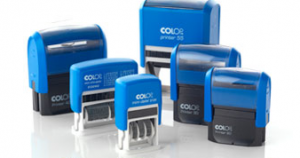 Why Should I Invest in Personalised Rubber Stamps?
Business owners are always looking for ways to help their company stand out in a crowd, and personalised stamps are a great way to accomplish this goal. Using custom rubber stamps will help create a unique and professional image for your company.
Stamps are one of the most effective marketing tools you can invest in with your business, and they're a great way to help your company get noticed.
Personalised stamps are very inexpensive when compared to other promotional items. They also help save you a lot of time – and time is money! Rather than writing your address or company name on all of your communications, you can stamp it quickly and easily.
What Types of Rubber Stamps Are There?
When choosing a stamp, take into consideration how many letters you'll be able to fit onto the stamp and where exactly you want those letters placed.
Personalised rubber stamps can be customised for practically any use, but some more common usages for them include:
These stamps show your name or title together with the business name in a very professional way. They're great to use on completed proposals, letters sent to customers, or anywhere else you need to display your name as well as the business' name.
Business name stamps can also contain your company's name with one line of text underneath, such as a motto or telephone number.
These stamps allow you to stamp your business's address on large envelopes or documents, so that your employees don't have to write it out by hand. It has the added benefit of making your letters appear more official and professional.
Address stamps can also be used in other unique ways, as you can customise the eight lines of text in any way you'd like. For example, create a stamp to display your business's opening hours, or your social media handles.
Loyalty stamps don't use text at all – instead, they are designed to print a small image. They're mostly used for stamping loyalty cards (where customers can 'save up' stamps for a free gift or discount). You can choose from a variety of images, such as a pizza slice or a paw print, and choose your preferred ink colour.
If you have to stamp dates onto your mail, you'll obviously need to change the date on the stamp regularly. You can purchase special dater stamps that use a simple roller mechanism to allow you to change the day, month and year.
How to Use Personalised Rubber Stamps
Most businesses get a good return on investment when they use personalised rubber stamps in their correspondence. In addition, because they make mail easier to send, they can be sure of getting their message across promptly and accurately.
Personalised rubber stamps are also fun to use because it's almost like using your own personal seal. When you see how much time you can save each day on correspondence with personalised stamps, you'll be amazed at how much more productive they can make you.
To make sure you get the most out of your personalised rubber stamps, follow these tips:
1. Buy from a Reputable Company
You don't want to buy cheap, low-quality stamps that won't stick properly and will damage easily if they accidentally hit something hard like a countertop. Instead, be sure to find a company that sells high-quality products, such as 123Print. That way, you'll get the most out of your investment.
2. Stamp Smartly
Choosing the correct type of stamp and message for your business can be a daunting task. To help you decide, take some time to think about how often you send out letters or proposals, who they're going to, and what you want them to remember about your business.
Once you've got that down, all that's left is to choose the perfect rubber stamp, and customise the text to your liking. You can even choose the ink that best matches your business's colour scheme!
3. Test the Stamp Before Using It
If you buy pre-inked stamps, make sure they work properly before using them on important documents or correspondence. This will ensure that the stamp is not defective, and prevent problems down the line. It's also a good idea to test out any non-inked stamp before using it to make sure you like the positioning of your message.
4. Buy in Bulk
Buying in bulk saves you a lot of money on each stamp and lets you get more uses out of them as well. Plan ahead to buy stamps before you run out, and be sure to take advantage of bulk pricing when you can. The best place to look for deals is online. For example, the more stamps you order with 123Print, the more you save.
5. Use a Self-Inking Stamp
If you have multiple names or titles that would fit on a single personalised rubber stamp, using an ink pad can get quite messy. It can also waste valuable time. Instead, use a self-inking stamp which eliminates the need for an ink pad and is much more convenient to store and carry around.
6. Select a Stamp Size that Fits Your Needs
There are many different sizes of personalised rubber stamps available on the market today. Therefore, it's crucial to select the right size for your needs. This will ensure that you can use it across all your correspondence and make sure the impression left on letters is large enough to recognise easily.
7. Apply the Stamp Appropriately
Be sure to position a personalised rubber stamp correctly so that your text looks great when it's stamped. Choose a location on the document that is flat, and large enough to display all of the text. Don't press too hard, or you could damage the rubber.
Check for flaws in the design before you put it on a document. If it's not perfect, reach out to the company that designed it. At 123Print, we offer a 100% satisfaction guarantee – so if for any reason you're not pleased with your stamps, we won't give up until we've fixed the issue.
8. Store Your Stamp Correctly
Always replace the lid on your stamp after using it, to ensure that the ink doesn't dry out. This will help you get the most use and longevity out of your rubber stamp.
Over time, the ink will begin to run out. The easiest way to find out if a stamp needs replacing is by running your fingers across it. If it's dried up, discard it and use a fresh one to get better stamping results. (You should always make sure you have lots of new stamps on hand!)
Stamps add a professional touch to business correspondence, envelopes, documents, and promotional materials. Your customers are more likely to respond to you if they feel like you're a true professional.
Stamps also save time and money by ensuring that letters are promptly sent to their destinations with the correct return address information. But, most importantly, they help you stand out from the crowd.
When choosing where to buy your personalised rubber stamps online from, remember that service is key! You want to find an online store with plenty of customisation options available and fast delivery, such as 123Print.
We offer a wide selection of personalised rubber stamps, great for any business of any size. We pride ourselves on our excellent customer service, fast delivery, and low prices – so shop online with us today to find your perfect stamp!