Designing a promotional postcard is a great way to market your business. A well-designed, full-colour postcard can grab attention, spread brand awareness and generate interest in what you have to offer.
Because postcards don't need to be mailed in envelopes, they're extremely affordable compared to other forms of marketing. However, their thick, glossy double-sided cardstock will create an instant impression of quality – which customers will come to associate with your business.
If you've never designed a promotional postcard before, it can be tricky to know where to start. Here are some tips to help you create an effective postcard that will get results.
1. Keep It Simple
The best promotional postcards are simple and easy to understand. People should be able to tell at a glance what your promotional postcard is for, and why they should care.
Don't try to cram too much information into a small space: it will only confuse your audience. If they pick up your postcard and don't immediately understand what they're looking at, it'll go straight in the bin.
Instead, stick to the essentials, and use secondary text or graphics to provide more information if needed. That means details of the promotion, who you are, and how they can take advantage of it.
2. Use Strong Visuals
Visuals are key when it comes to promotional postcards. They help to grab attention and generate interest in what you have to offer.
Choose clear images and visual effects that are relevant to your business, and that will appeal to your target market. If possible, use eye-catching graphics or striking colours to really make your postcard stand out.
Remember that your recipients may have a lot of promotional materials to sort through – you don't want yours to blend in with the rest. Just don't make your postcard too complicated (remember, keep it simple).
3. Make Your Message Clear
Your message should be clear, concise, and easy to understand.
Think of it this way: what's the core reason you're sending out your promotional postcard? Let's say you have a new product. Well, a big picture of the new product and a big banner headline with its name and price would be good things to build your design around.
Besides that, make sure that your call to action is obvious, and that the benefits of taking advantage of your promotion are clear. What do you want the customer to do? Buy now, subscribe, call? Whatever it is, be clear about it. Your audience should be able to read your postcard in a few seconds and know exactly what you're offering. If they can't, it's likely that they'll just move on.
4. Create a Sense of Urgency
In order to motivate people to take action, it's important to create a sense of urgency. If they see that your offer is time-limited, or that there are only a few items left, they'll be more likely to want to take advantage of it.
You can do this by using phrases like:
• "Limited time offer"
• "While stocks last"
• "Sale ends Monday"
If you can make people feel like they're missing out if they don't act now, you'll be more likely to get them to do something.
Giving a clear cut-off date is best. That's why offers like 'January sales' are so successful: if you don't buy in January, the price will go up! So, rather than using an arbitrary cut-off point (e.g. 'three weeks'), use a specified date or timeframe.
5. Use a Good Postcard Design Tool
When it comes to creating effective promotional postcards, using a good design tool is essential. It ensures that your postcard looks polished and professional, and will help it to stand out. This will influence your potential customers' first impressions of your company, so it's an important step.
Business stationery experts 123Print offer a range of design templates that are easy to use, and that will help you create a postcard that looks great.
With our design tool, you can personalise your postcard with your own text and images, and you can even choose from a range of different fonts and colours. You can also preview your postcard before you order it, to make sure that you're happy with the results.
6. Use Interesting Fonts
When it comes to text, using interesting typography can make a big difference. This doesn't mean using a huge variety of fonts (in fact, less is more), but rather choosing fonts that are appropriate for your message and target market.
If you're targeting a younger audience, for example, you might want to use funky or stylish fonts. If you're targeting a more sophisticated audience, you might want to use more formal, serif fonts. Just make sure that your text is easy to read, and that it fits in with the overall design of your postcard.
7. Be Consistent with Your Branding
Your branding is key when it comes to promotional postcards. If people can see a recognisable design or style running through your postcards, they'll be more likely to remember you. This is imperative
Ways to stay consistent include:
• Using the same fonts and colours across all of your postcards
• Using a consistent design template if you make more than one
• Having a recognisable, clear logo, and using the same logo as you use elsewhere
Other than that, it's up to you how you want to present your branding. Just make sure that it's immediately recognisable, and that it ties in with your overall marketing strategy.
8. Use High-Quality Images
When it comes to promotional postcards, using high-quality images is essential. After all, you want your postcard to stand out from the crowd, and come across as professional.
What can often trip people up is that a picture might look good at a certain size on a screen, but looks grainy, pixelated or blurry when it's printed out at full size. You can avoid this by using high-resolution, HD images.
You can either pay for an image or use public domain images – these are available for everyone to use without copyright issues. Or, of course, you can take the pictures yourself!
When you design a promo postcard with 123Print, you're free to use the images in our templates, or upload your own. So, choose something a) high resolution and b) that fits your branding.
9. Proof Read Your Text
It might seem like a no-brainer, but proofreading your text is essential. Typos and errors can give the impression that you're unprofessional, that your business lacks quality control or that you don't care about what you send to potential customers.
If you're not much of a writer, you do still have options for proofreading your text. Have a friend or colleague run over it for you, hire an editor through an online platform, or run it through a grammar analysis tool. Even the spell-checkers built in to word processing programs do a decent job.
10. Hire a Professional Designer if You Can't 'DIY'
If you're not confident in your design skills, or if you just don't have the time to create a postcard from scratch, using a professional design service is a good option. You could either hire a freelance designer or use a professional design agency.
Just make sure that you brief them properly, and that you're clear on what you want them to create. You don't want any surprises when it comes to the cost, or the final design! You can save money by asking them to send you the design digitally, and using an affordable site like 123Print to have it printed.
Design a Stunning Promotional Postcard with 123Print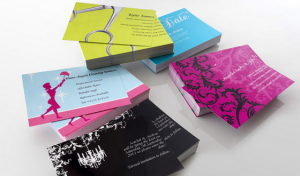 123Print offers high-quality printing that's totally customisable, so you can be the cool creative person you're just itching to be – all without breaking the bank.
We offer business card templates, letterheads, compliment slips, address labels, note pads, appointment cards and so much more – including promotional postcards.
If you're feeling inspired and want to get started, visit our site to browse thousands of promotional postcard templates. For any questions, queries or special requests, please don't hesitate to contact us today – our design team will be happy to help.