From books and cash to bus tickets and calendars, we're used to doing everything online these days. If you own or work for a business, you'll probably carry out the majority of your marketing and advertising over the internet, too.
But whether you work freelance or own your own company, having a physical business card is still necessary if you want to make an impression on your clients, customers and colleagues. It's always worth standing out from the crowd: choosing a card that is visually engaging and unique will help your products or services stick in the minds of professional contacts. It is this first impression that will lead your prospective clientele to try your company over your competitors.
Quirky and colourful business cards may not be perfect for some of the more serious niches, but if you want to be memorable and catch the eye, they're perfect. In this guide, we'll share ten of our favourite vivid and unique business card designs that are sure to make an impression.
Our eye-catching Deserted Beach business card evokes memories of peaceful tropical holidays and summer fun. This photographic design features an exotic vista, with blue skies, a clear ocean, white sands and palm trees. It's bound to leave anyone who receives it longing for a trip far away.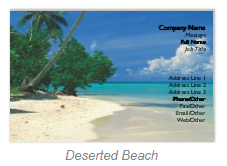 Maybe you're an independent travel agent who will use these cards to advertise the type of sun-kissed holidays your company can provide. Or perhaps you're a professional travel blogger or photographer who simply wishes to generate more traffic on your website. Either way, this bright and colourful business card is perfect to draw in the eyes and attention of anyone wanting to dream of white sand and warm waves.
When a computer is not behaving as it should, letting your clients know that help is just a phone call away can be a comfort, especially when people rely on their computers for so much these days. Whether you work in software, hardware, or maybe you design websites for a living, this brightly coloured Pointing to You business card would fit the bill.
The cursor-style graphic on this bright purple business card looks as though it's about to click on your website – and it also draws the reader's eye to all of the contact information on the card, which is printed in a vivid orange font.
When working in an education based role, chances are you will be spending your time working with children: whether you're a nursery worker, babysitter, nanny, childminder, a teacher or even a private tutor. All of these roles involve having to expand your client base on a regular basis, as the children you look after will inevitably grow up and move on.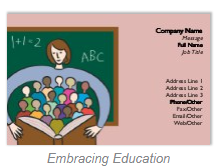 The best way to do this, and advertise your business is of course to have business cards made. This fun and colourful Embracing Education business card features a cute cartoon design which is perfect to show just exactly what the main focus of your business is: taking care of children!
When you are an estate agent, a lot of your work involves face-to-face business with your clients. Therefore it is vitally important that your business card is not only a suitable way to give them your contact details, but also helps them remember you, and distinguish you from your competitors in some way.
This Rainbow Lane business card may be minimalistic in its design, but with its bold and vibrant colours, on its first impression it certainly will pack a punch. Whether you choose this business card in horizontal or vertical orientation it will leave your clients with a smile on their face, and a favourable impression of your business. The green base colour creates an image of your business as fresh, fun and friendly.
Sometimes when handing out your business card, you need one that will really cause someone to do a double take. This unconventional Mr Bones business card is absolutely perfect for this "shock tactic" approach, with it's deep red background and striking photographic image of a skeleton.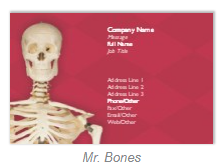 It's perfect for someone whose job involves working with the human body. This design would be great when advertising your chiropractic business, or if you are offering private physiotherapy sessions. Whether working in the healthcare business or maybe even in the science sector, this card is bound to leave a memorable impression on someone. It would also work great for a party supplies company that specialises in Halloween!
Although you could hire a handyman or carpenter when it comes to installing locks in your home, a locksmith is the only one that can offer a personal touch when it comes to the security of your household. That's why it is so important to hire someone that is not only good at their job, but also has the relevant accreditations, which can be shown through their business card!
When you're locked out, you don't want to be scrolling through the internet trying to decide out of hundreds of businesses' which one is reliable. So if you're a locksmith, use this Padlock business card so that your potential customers will always know how to get in touch when they need you. It features a striking photographic design with contrasting white text that won't soon be forgotten.
As a designer, builder or architect, you will need a business card that shows off just how creative and precise you can be. This unusual Built to Perfection business card can give your clients a subtle nudge into thinking about what they need from your company.
The periwinkle blue design featuring the white outline of a building plan is sharp, sleek, and perfect to give to clients thinking about expanding their home. Whether you are in architecture, construction or engineering, this blueprint-themed business card is an ideal example of how well it can not only grab someone's attention, but also have them know what area of work you are in immediately just by glancing at the card.
In today's world, there is a big (and well-justified) push for reusing and recycling as well as fighting back against fast fashion. More and more people are looking to get their clothes mended or tailored compared to before, where the alternative was to throw away and buy something new.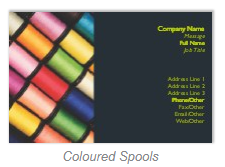 It is imperative then, that potential customers are able to easily contact you when your services are needed. This distinct Coloured Spools business card features a rainbow of vibrant spools of thread, instantly letting your clients know that you're a dressmaker, tailor or seamstress. With its bold and stand-out colour scheme, you are bound to pull the clients in.
On the Chase is an adorable, illustrated business card that will instantly make anyone you hand it to smile. The offbeat design features three cartoon dogs who are barking and chasing after a bright red ball, which rolls towards your contact details on the left of the card.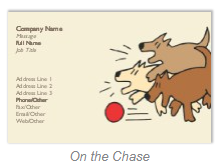 This would be the perfect design for a dog walker, dog sitting service, breeder, groomer or kennel. It would also work well for a small business selling home-made dog treats, collars or accessories. Your customers will love the cute illustration and will keep your card on display for whenever they need you.
Finally, we have our last and perhaps most startling design of them all. The Funky Zebra business card demands attention with its shocking pink colour scheme. Above your contact details, a banner of flashy black and white zebra print runs along the top of this horizontal design, catching the eye of anyone who might notice it peeking out of a folder.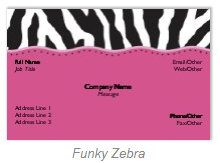 This bold business card would be perfect for a fashion designer, party supplier or any business that wants to make an instant impression with a flamboyant design. This card says, quite simply, that you're not afraid to have fun – which will be instantly appealing to your customers!
Order Your Professionally Printed Business Cards from 123Print
If you've fallen in love with one of our colourful and eye-catching business cards, or want to have a browse through the thousands of other designs we have to offer, head over to 123Print today. You'll find a huge range of business cards suitable for any professional niche or vocation imaginable, from solicitor's offices to children's party rentals, and everything in between.
When you've chosen the design that appeals to you, simply use our free online editor to enter your company information and contact details. You can alter the font style and colour to your liking, and upload your business's logo or any other artwork that you so choose.
Once you've approved the preview, your order will be professionally printed and dispatched within 2 working days. You'll soon be able to share your new, vibrant business cards far and wide!
Comments