This question comes up every year around the holidays – should you send Christmas cards to your employees?
On the one hand, no-one wants to be that boss who sends a card out like clockwork but never actually gets to know their employees. And you also don't want to be insensitive, and accidentally send a Christmas card to an employee who doesn't celebrate Christmas (e.g. Jewish or Muslim employees).
But on the other hand, Christmas cards from bosses and managers to employees – done right – can be a wonderful way of showing your staff that you care, and boost employee morale. You have to let your employees know that you appreciate them for who they are, and recognise the individual contributions they make to your company.
In this guide, we'll discuss the proper office etiquette around sending Christmas cards to employees, and celebrating Christmas at work in general.
We'll also discuss what you should write in an employee's Christmas card, and give you some examples of beautiful personalised cards that you can order online.
Is It a Good Idea to Give Employees Christmas Cards?
While it's certainly appropriate (and usually very much appreciated) to send Christmas cards to your employees, there are some considerations to keep in mind.
The first consideration is that not everyone celebrates Christmas. Employees who practice other religions, or no religion at all, may not appreciate receiving a Christmas card from you – or anyone, for that matter.
On the other hand, employees who celebrate Christmas will likely really appreciate a religious Christmas card to put on their desk at work, or on their mantle at home.
Cards for Employees that Don't Celebrate Christmas
A nice compromise is to send out non-denominational cards that everyone can appreciate, whether they celebrate Christmas or not. Non-denominational cards include those that celebrate the "holiday season" or "winter season", rather than Christmas.
These cards may contain generic winter-inspired designs on the front, rather than Christmas imagery. Be sure to avoid anything specifically Christmas or religion-themed, such as:
1) Angels
2) Father Christmas
3) Decorated Christmas trees (undecorated fir trees, as part of a natural landscape scene, are fine!)
4) Nativity scenes
5) The Christmas star
For example, choose a design such as Holly Branch, which features a simple photographic design of a robin sitting on a sprig of holly. This represents winter in general, rather than Christmas – and of course the interior can be customised to remove any mention of Christmas.
Non-religious cards give off a more secular vibe, but they can also be appreciated by those who celebrate Christmas. Given the importance of inclusivity in the workplace, a non-denominational card may well be the best choice.
If you'd rather send something more specific to each employee's religion, feel free to send Hannukah cards or Eid cards (for example) rather than Christmas cards, at the appropriate time of year. This will show your employee that you've taken the trouble to get to know them as an individual.
Timing Tips for Christmas Cards in the Workplace
It's also important to consider when you send out your Christmas cards to your employees. Giving out Christmas cards too early may seem a bit pushy or perfunctory, while ordering and posting cards too late runs the risk of feeling like an afterthought. The cards may even arrive after Christmas, which is no use at all!
While the official start of the Christmas season can vary from one part of the country to another, in most cases, it will start sometime in November. You'll notice your local shops putting up Christmas decorations almost as soon as they take down the Halloween ones!
It's seen as appropriate to start handing out Christmas cards at the beginning of December. Try to time it around when your employees start to talk about their Christmas plans, get excited for the holidays, and start handing out cards to one another.
Keep in mind that you may want to consider giving out your Christmas cards before the business holiday party – or during it. Many offices host their Christmas parties on a weekend in early to mid-December. Sending one after the party will definitely seem like an afterthought – avoid this mistake by being proactive about your greetings!
What Do You Write in a Christmas Card to Employees?
Now that you know when to send out your Christmas cards, it's time to consider what they should say. Some companies use the predictable "Merry Christmas", "Happy Holidays" or "Season's Greetings" sayings on their cards. These are more than acceptable, especially if you're sending them as a corporate message.
But we recommend going a little more personal. Because you're sending the card to your employees, make it feel like it's coming from you personally. The last thing you want is for your Christmas cards to be perfunctory and boring.
Personalising your Christmas cards by writing a custom note to each employee is a great way of showing them that you appreciate them as an individual. For example:
1) Thank them for a recent project they've completed at work that you were happy with
2) Mention their Christmas plans that they've brought up at work – e.g. "I hope Boxing Day dinner with the in-laws goes well!"
3) Reference their family members by name, and wish them well
4) Tell them how much you appreciate them and look forward to having them back in the office after New Year
An inside joke or two can also be very well received! Just make sure that you don't bring up any potentially controversial topics, or anything that could be considered inappropriate. Even a joke can be the wrong kind of funny for some people!
Who Should Receive an Employee Christmas Card?
This should go without saying, but make sure that you're sending cards to everyone on your team. It's easy to forget a few names or lose track of who's new this year, but it's important that no-one feels left out. Avoid awkward conversations by making sure that everyone receives a card, from the vice president to the night janitor.
It may feel like a lot of work to send your Christmas cards to your employees, but it can really pay off! Not only do you get an opportunity to relate on a more personal level with those around you, but there's also the chance of getting some free positive exposure across your social media networks.
In short, a Christmas card is a great way to remind those around you that they matter – and what better time than Christmas?!
Where Can I Buy Christmas Cards for Employees?
At 123Print, we have hundreds of Christmas card templates to choose from. You're bound to find a design that suits your company and your employees down to the ground. Here's a sampling of the selection we have to choose from:
1) Christmas Morning: this beautiful photographic card depicting a forest of snow-covered trees features the phrase Season's Greetings. It's a perfect non-religious Christmas card option for your employees.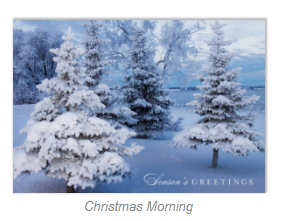 2) Christmas Deliveries (With Your Logo): this card shows a delivery truck that will feature your business logo on the side. A perfect mix of Christmas cheer and corporate pride!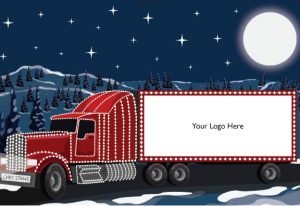 3) Christmas Wood: a stunning wintertime scene featuring woodland creatures against a backdrop of cosy cottages. A great way to show off a little personality while getting your holiday message across.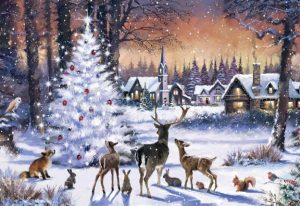 All of our designs are fully customisable, so you can choose your preferred greeting on the inside of the card – either select from one of our pre-written messages, or write your own.
Many of our designs also feature front personalisation, allowing you to upload a photo, your logo, or your business's name to the design itself.
To find your ideal employee Christmas cards, head over to 123Print today! We have a low-price promise, and print our cards professionally on high-quality cardstock. With our 100% satisfaction guarantee, you can be sure you'll love the end result – and your employees will, too!
Comments