Digital-only marketers reading this article might be asking why they should be thinking about promotional postcard ideas in the 21st century. Isn't paper marketing a little passé?
It's a fair question, but there is a lot of data about the importance to a brand of direct mail advertising. For a start, according to the latest statistics, up to 87% of people read all their physical mail – compared to promotional emails, where the global average is only 23%.
That's less than a one in four chance that your promotional email gets opened, assuming that it didn't hit the spam folder.
Now, no one is suggesting that you dump your promotional email campaigns—email is a powerful marketing tool—but consider promotional postcards as an interesting and highly customisable adjunct to your online marketing activities.
Aside from being useful for digital marketers, promotional postcards are an essential marketing tool for brick-and-mortar retail businesses, too.
Promotional postcards are exactly what they sound like – postcards sent out to past customers, current customers, and potential customers to promote a business.
They can be used as a sturdier alternative to flyers, to advertise your products, services, or special offers. They can also simply be used for brand awareness and recognition, by wishing customers and clients a Merry Christmas, for example.
The one big advantage to postcards is that they can be put straight in the post box without an envelope. So you're not only saving money on envelopes, but you're also saving time stuffing and sealing them.
Promotional postcards can be designed to fit almost any colour scheme, theme, industry and occasion. They can also be fully customised with your business's logo, preferred font and wording options.
When to Send Promotional Postcards
You can use personalised postcards in almost any way you'd like – as a thank you to a loyal customer, or to wish a longstanding client a happy birthday. But they're most often used to advertise some sort of sale, promotion, or special discount that a business is currently offering.
The point of a promotional postcard is to remind your clients and customers about your company, and encourage them to get shopping now- otherwise they'll miss the special offer! So, the right time to send a promotional postcard is whenever you've got a promotion or sale on.
There are a few typical sales periods to consider, such as:
Spring sale
Summer sale
Back to School
Black Friday
Christmas or Boxing Day sale
New Year
Think about how your product or service fits the season and create matching postcard promotions. For example, if you sell fashion products, promote clothes appropriate to the season.
Over the past ten years, the amount of online buying has risen massively. Now, throughout the year, there are various 'cyber' sales from online retailers, such as Amazon. It's good to time your promotions to coincide with these sales and hook onto the shirt tails of the online sellers.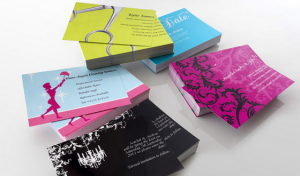 What Do You Put on a Promotional Postcard?
Like any other form of marketing promotion, the design and content should be simple and eye-catching. Think about your marketing goal, and design the card in a way that guides the reader to take the action that you want.
If, for instance, you expect someone to buy a gym membership subscription, you might wish to write some enticing copy and offer a two-month-free discount via a QR code. The recipient scanning that QR code and accessing the sales page on your website is your promotional postcard's 'call to action'.
That may seem obvious, but without that one clear goal, the recipient might read it once, then toss it into the rubbish bin. The best promotional postcard ideas as simple and easy to execute.
How to Design a Promotional Postcard
How do you design a promotional postcard that will get read, as opposed to being thrown away? It's all about making clever design choices that will help your postcard stand out from the rest.
Here are some promotional postcard design ideas that are sure to pull customers in.
Try Portrait Format
Most cards use landscape format. A portrait formatted postcard might prompt the recipient to pick it up and read. Getting someone to read your promotional postcard is the first hurdle to clear.
Contrasting Colours
The use of contrasting colours in a postcard design can help direct the recipient's eye to an important piece of information, like price or a discount code.
However, use carefully, as overusing this technique may make a postcard hard to read.
Include Social Proof
Customers are far more likely to shop with a new business if they've got some sort of evidence that they won't get scammed, or be sold an inferior product. People trust brands that other people recommend.
Where possible, leave space in your design for pictures of satisfied customers, testimonials or reviews. Even including your rating on TrustPilot, for example, is helpful.
Personalisation
Try to avoid sending postcards and direct mail to 'The Occupier' or some other anonymous entity. Unless you're a cable company trying to entice a new tenant or owner to buy your service, it doesn't work and is very impersonal.
Work at making your customer database as complete as possible. First name/last name and address are the minimum. If you are a local company and your mailshot is small enough, consider writing the name and address by hand, too.
People who receive direct mail consider it more personal than other forms of direct advertising, such as email promotions. Take advantage of this bias and make your promotions as personal as possible.
Use Eye-Catching Images
Use bright images that stand out. Your promotional postcard must grab the recipient's attention before they move onto the next item. Make sure that your postcard stands out from the rest by choosing crisp, clear, large images that use eye-catching colours such as red.
If you haven't got any of your own images to use (such as pictures of your products), there are plenty of royalty-free image sites that you can make use of.
Use Both Sides
A postcard has two sides, so make good use of both. What's on the front of the postcard should entice the customer to turn it over and read the other side.
Of course, don't forget to leave space for the customer's address on the reverse of the postcard – unless you're going door-to-door and won't need to actually use the postal system.
Include a QR code
QR codes are becoming more popular as a marketing tool. Include one in your promotion and make it easy for your customer to find your online information.
By scanning the QR code, the recipient will be sent directly to your website, and straight to the pertinent page regarding the promotion. This is a lot easier than typing a link into a web browser.
You can even include a personalised tracking number linked to the postcard recipient, so you know who's reading your mail.
Postcard Promotion Ideas
Understanding your business and customers will lead to many great promotional postcard ideas. Here are a few to get you started:
Loyalty Cards
The invention of the loyalty card has been a great boon to the marketing activities of many brick-and-mortar retail businesses.
The cards enable them to track customer spending and offer discounts for a product that they routinely buy. The loyalty card application process captures a lot of customer data, suitable for direct mail marketing campaigns, including postcards.
Personalised Offers
Using the customer's purchase history, you can create personalised postcards featuring products that they regularly buy, or products they might like to try in the future.
For instance, if a customer buys an expensive cosmetic product from a boutique store, the store may estimate when it'll run out and send a 10% off coupon. The customer comes to the store to use the coupon and buys more.
Home Buyers
Through public records, it is usually possible to find when properties are bought and sold. It is safe to assume that when someone moves into a new property, they need to buy household goods or services.
If your business sells anything that would interest a home buyer – such as kitchen gadgets, soft furnishings, home décor, or anything of the like – create a welcoming personalised postcard and send it to their new address.
Discount Codes
The discount code is probably the most effective form of promotion. An estimated 40% of direct mail receivers will access a target website after receiving an attractive offer.
Even if you only offer a small discount – such as 10% off your first purchase, or buy two and get one free – it will entice new customers to shop with you. Include a special coupon code that you only distribute through your postcards, and you'll be able to track how successful your postcards are!
Free Gifts
This is a great way to reward loyal customers. The gift doesn't need to be super expensive, and you can save it for your long standing clients. When they come to your store to redeem their gift, they'll have a browse of your other products and may leave with more than they bargained for.
Customer Feedback
Postcards aren't just for selling products. Shops and restaurants may also use them to get customer feedback. Include a few questions on your postcard such as "how did you hear of us?" and "how would you rate our products or services?" and leave space for your customers to write their answer.
You can also offer a free gift or discount in return for a completed survey!
Greetings Cards
If your customer database includes your customers' or clients' dates of birth, send a personalised birthday postcard with a gift certificate or coupon code. You can also send out promotional postcards at Christmas, New Year, Easter, Valentine's Day, and so on – simply to wish your customers a great holiday.
You'll want to have your promotional postcards printed professionally, rather than trying to do it at home. And there's no better place to order promotional postcards in the UK than 123Print!
At 123Print, you can choose from hundreds of promotional postcard templates in two sizes. Our standard postcards measure 143 x 102mm, while our large postcards are 203 x 127mm. All of our postcards are printed on high quality 330gsm cardstock.
When you've found a template that you'd like to work with, simply click on it to begin editing. You can upload your business's logo or other artwork straight from your device, and play with the text colour and font until it perfectly matches your company's aesthetic. Feel free to save your design and come back to it later, if you haven't the time to perfect it in one sitting!
We aim to dispatch all orders within 2 working days, and offer a 100% satisfaction guarantee. Head to 123Print today to browse all of our affordable and high-quality business stationery.
Comments