For the tiny slips of paper that they are, appointment cards are one of the most effective ways to spread the word about your small business, and keep customers updated on a variety of events. However, so many companies just aren't using them to their full potential, or aren't using them at all – meaning they're missing out on the benefits of this vital piece of business stationery.
In this article we're going to go over exactly what appointment cards are, how and when to use them, the benefits of using them, and how to design the optimum appointment card for your small business. Without further ado, let's get started.
What Are Appointment Cards?
Similar to business cards, appointment cards contain proudly display your business's contact details, making it easier for your clients to get in touch. However, they also have section on which you (or your client) can write the date and time of their next appointment with you. This may be at the bottom of the card, or on the back.
Appointment cards can have a multitude of different functions, but their two main purposes are:
1. Referrals. Similar to business cards, appointment cards contain your business's telephone number, email, company name, company address, and so on. Handing them out at functions, seminars, and in informational packs is an easy way to refer your business to new clients.
2. Reminders. Almost like wedding RSVPs, appointment cards can be used to help keep your customers on top of upcoming events, or important meetings they might have scheduled. You can hand out appointment cards in person, or send them in the post.
At this point, you may be wondering: are appointment cards still relevant in the digital age? Won't my clients prefer to keep track of their commitments digitally, such as using their smartphone calendar?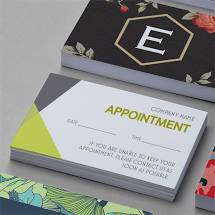 While many people do organise their lives digitally, having a paper reminder of an upcoming task or event (such as an appointment card) can be an extremely effective way of promoting your business. Clients and customers that don't use digital technology will be particularly appreciative.
How and When to Use Appointment Cards
As we'll touch upon later, the ability to print appointment cards in bulk is incredibly convenient and something that cannot be understated. If you haven't already ordered your appointment cards, then this should be your first step before doing anything else.
After doing so, the best way to spread word of your business is to distribute these appointment cards as far and wide as possible.
1. Distribute them at business seminars and fetes
2. Send them out to your mailing list of existing clients, as part of a promotion or advertising campaign (for example, with a flyer or a free gift)
3. Hand them out to passers-by (be sure to check with your council first, as you may need a permit to do this)
4. Hand them to customers in person as they make an appointment or schedule a meeting with you
5. Post them to your customers' homes to remind them of an upcoming appointment, if they booked it online or over the phone
6. Use them to jot down information for customers and clients, such as product pricing
Because appointment cards are so small and affordable, you can use them as liberally as you like. Any business, no matter what kind of product or service you offer, can make use of them. Provided you have clients that need to keep track of appointments or meetings, you can use appointment cards to help promote your business.
So, what are the advantages of appointment cards? Here's why they're worth investing in.
1. Your clients and customers will take their appointment more seriously if you hand them an appointment card, rather than just verbally telling them when to attend. They'll be less likely to forget their arrangement with you (or simply not bother turning up), meaning you'll save time and money.
2. They're cheap to order in bulk. With 123Print, you can design and order appointment cards for as little as £4.95 (for 100 cards). And the more you order, the more you save, with our bulk discount! If your aim is to spread the word of your business in a cost-effective way, then appointment cards are certainly the way to go.
3. They're convenient – with most appointment cards fitting into the palm of your hand, the ability to carry an appointment card wherever you go is extremely convenient. If you happen to bump into someone who's interested in your services, you can simply pull a card out of your pocket, with all the vital information they'll ever need.
4. As appointment cards typically contain your business's logo, they're also handy for increasing brand awareness.
If you want to become a recognisable face in your industry, distributing appointment cards to anyone and everyone who may be interested in your services is the most cost effective way of doing so.
How to Design an Appointment Card
The first step in designing your appointment cards is to browse our diverse range of appointment card templates. There, you can select a design that fits with the theme of your business.
Once you've chosen your preferred template, click on it to start editing. You can use our handy editor to upload your business's logo or other artwork, enter your company details (name, address, phone number, email, etc.) and anything else you'd like to add.
Here are a few tips on designing the perfect appointment card:
1. Consider your business's aesthetic when choosing the font and colour scheme. For example, if you run a soft play or a childminder's, a fun font in bright primary colours would be perfect. But for a solicitor's or estate agent's, you might want keep to a plain, understated and professional design.
2. Stay consistent. Don't swap out your fonts for each new line of your card – pick a font and stick with it to emit an aura of professionalism. The same goes for the colour – don't be tempted to choose several different shades, but rather use 1-3 for a cohesive theme.
3. Make it clear and legible. Don't get carried away with uploading artwork and trying to recreate the Sistine Chapel on your card. Avoid using elaborate, hard-to-read fonts – the point of an appointment card is to convey information clearly and concisely.
You'll be shown a preview before you can add your order to your basket. Make sure to triple-check all of the details for typing errors before you send your order off to print, because we'll print your order exactly as you've written it. You don't want to miss out on sales because you've accidentally swapped two digits of your phone number, for example!
When you go to checkout, you'll be able to choose between various styles and weights of paper. A heavier card will be pricier, but will also give your appointment cards a sturdier, professional feel to them. The choice is yours!
How Many Appointment Cards Should I Order?
Unless you're planning on changing your business's logo or contact information in the near future, there's really no downside to bulk-ordering appointment cards. You can keep them on hand or tucked away in a drawer for whenever you need them.
At 123Print, we offer the most competitive rates on appointment cards when ordered in bulk – you'll find that the more you order, the cheaper each card works out. It's always a great idea to order more than you think you'll need – not only due to the amazing savings, but also because you never want to run out of appointment cards unexpectedly.
We aim to print and dispatch all orders within 2 working days, or the next working day if you finalise your order before 17:00 GMT. We also have a 100% satisfaction guarantee, so if for any reason you're not happy with the final product, we won't rest until you are!
Comments