Have you ever wondered how to elevate your business cards? Maybe you're looking for unique wedding "save the dates" that your guests won't forget about? Or you could just be wanting a custom way to decorate your refrigerator. Vinyl printed magnets can do all of this and more.
Investing in personalised, professionally printed magnets is a unique way to stand out and have important information stick where people need it. This guide will talk you through what custom printed magnets are, how you might use them, and a few key reasons why choosing a magnet can attract people to your business or party.
What Are Personalised Magnets?
Personalised magnets are, as you may have guessed, fridge magnets that are entirely customisable. They're made of a tough, flexible, hard-wearing vinyl (with a magnet on the back, of course). Vinyl magnets are designed to last for years, unlike other kinds of stationery, such as cards.
Just as you can order a personalised business flyer or invitation to advertise your upcoming party, you can also order a magnet to do the same job – with the obvious bonus that it will stick to anything magnetic, like a fridge or filing cabinet. This puts it right in the line of sight of whoever owns it, rather than being stuck in a drawer!
You're free to choose the images, colours, and fonts used on your personalised magnets. So, you can create something that not only sticks to people's refrigerators but also sticks in their minds.
At 123Print, our magnets come in two different sizes. Our small magnets are 85 x 55 mm and are perfect for business cards. In comparison, large magnets are 140 x 108 mm and work great for when you need more space to share important information.
Attracting New Business with Promotional Magnets
Magnets are very much like business cards; they can be easily distributed, and they are something that customers can carry around with them in a pocket or purse. They also are effortless to circulate in the mail because they are small and thin.
However, vinyl magnets have much more functionality than a business card does, meaning it won't get lost in that purse or pocket. On top of being easy to distribute, the magnets will also make you stand out against your competitors.
Why Order Magnetic Business Cards?
When people go to a tradeshow, they are inundated with plain business cards to get lost in the bottom of their swag bag. However, receiving a magnet is always a positive and will set your business apart. Here are the benefits of using vinyl printed magnets for your business:
1. Unlike a business card, the magnet itself has uses for your customers; they can hold essential notes or drawings on fridges, or function as decorations themselves
2. Magnets are also durable and long-lasting. Unlike most traditional advertising methods, magnets are something that could last for years. Business cards can get lost or ripped, mugs break, and T-shirts go out of style. However, magnets being flexible combined with their sticking power will last much longer than any other promotional material
Since magnets last longer, they can create more impressions. If your potential customer puts the magnet on their refrigerator, they will see your business multiple times a day. The more time your information is on people's minds, the higher the chance that they'll contact you.
What Should I Include on a Magnetic Business Card?
To make the most of your custom printed magnets, here are some critical pieces of information you should include on the design:
1. Your business name
2. A logo
3. Business slogan, especially if it is not obvious what your business is from the name alone
4. Your phone number
5. Website or any business social media accounts (Facebook, Instagram, etc)
6. If your business has a physical location that customers would visit, you should include your operating hours and address.
While magnets are often used as a business card, larger magnets can also boost business. Larger magnets can be used for such things as advertising a specific event or promotion. For these types of magnets, consider putting important information such as the event date and start time, and what you're offering (e.g. 10% off).
As you can see, vinyl magnets are a great way to attract business. However, if you're not a business owner, there are still ways that magnets can be used in your everyday life.
Make Your Party Stand Out with Vinyl Magnets
Are you planning a big party or wedding? Are you worried that your guests won't show up, because they misplace the invitation or simply forget? Personalised magnets can help by acting as your save the date cards, or even as the invitations themselves.
No more worrying that your save the date will get lost in a drawer, crumpled, or torn. Our hard-wearing vinyl magnets are long lasting, and designed to be stuck in a memorable place, such as the refrigerator – meaning your invitees won't soon forget your upcoming celebration!
The Benefits of Ordering Magnetic Invitations
There are many reasons why magnets make a good option for party invitations. For example:
1. They are entirely customisable. No more trying to make a pre-set design work with your theme. You can choose colours, fonts, images, and designs that will match whatever aesthetic you are going for.
2. If you don't want to create a design from scratch, we also have a wide selection of templates you can choose from.
3. You can also use magnets as the actual invitations, rather than just the save the dates. This can save you money, as opposed to sending a full wedding invitation suite with all of its inserts and note cards. Simply print the date, time, and venue of your celebration on the magnet, and include a link to your wedding website, which will contain all of the little details.
4. Your wedding or party will instantly seem classier and more "upmarket" if you send a magnetic invitation, rather than a flimsy paper one.
5. Your guests won't forget the date of your party or wedding if it's staring them in the face every time they go and get the milk from the fridge!
An unexpected extra of having magnets as save the date cards is that they make good keepsakes for you and your guests to remember your special day. Due to the durability of vinyl magnets and their functionality, you and your guests can keep these magnets for years to come, and they can remind you of the fun you had that day.
Don't be tempted to cram as much information as possible onto a magnet – you don't want the design to look too busy or cluttered otherwise people won't pay attention to it. Stick with the bare bones basics, such as:
1. Your names (and the names of whoever is hosting the event, if applicable)
2. The date the party or wedding is happening
3. Start time and an approximate end time
4. Location (venue): its name, address, and post code
5. An email address or a contact number that your guests can use to RSVP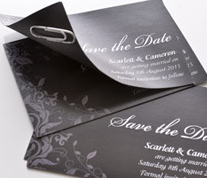 You should also include a link to a website, such as a wedding website, where your guests will be able to find more information – such as the dress code and the gift list.
Where Can I Order Personalised Magnets?
Whether you are a business owner or planning a party, try out our vinyl magnets today at 123Print. With dozens of templates to choose from, or the option to create your own design from scratch, you can't go wrong.

Before you place your order, we'll show you a full-colour preview of your design, so you can make sure it's perfect. We'll print and send your magnets in under 48 working hours – and if you're not happy for any reason, one of our professional team will be more than happy to help until you are!
Comments