Promotional mugs are exactly what they sound like—ceramic mugs with customised images, logos, contact information, and quotes representing your business. They're a great way to promote brand awareness with a personable touch.
Customisable mugs can also be used in a personal context. For example, you could upload a family photograph to a mug as a gift for a loved one, or simply to have something very personal to drink tea from!
The great thing about personalised mugs is that they're tough, and designed to be used again and again. Unlike many other kinds of promotional material (such as flyers), they won't be discarded after a single use. They'll be cherished for years, if looked after correctly.
If you're keen to discover how ordering personalised mugs could benefit your business, you're in the right place. We've put together a list of 8 inspirational uses for promotional mugs that you might not have thought of.
1. Merchandise
Many businesses use promotional mugs within the office, but you might not have considered selling them as merchandise. If you've got a website where customers can purchase goods or services, why not let them add a company mug to their basket, too?
You could even offer the mug as a free or discounted add-on with orders over a certain amount. While it might sound counterintuitive to offer mugs for free (or for very little), you have to consider the benefits here. Your customers will have an incentive to order more from you than they otherwise would have, knowing that they'll get a free gift out of it.
Another great benefit is that whoever buys your product will have a warm reminder of your brand in their kitchen. This will keep your business fresh in their minds, making them more likely to use you again. Sports Direct is an example of a company that already uses this amazing marketing strategy (with great success).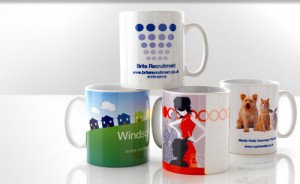 2. Welcome Gift Baskets
We all want to feel special. And there's no better way to show someone that you think they're special – whether it's a customer, a repeat client, or an employee – than with a gift basket.
This idea for getting your promotional mugs out there might work particularly well with businesses with a membership or subscription service. Three month subscription? Here's a gift basket containing a mug with the logo of the brand you love and support. What else? Maybe some coffee, hot chocolate, or a fancy kind of tea to enjoy in your new mug!
Even if your business doesn't have such recurrent billing models, the gift basket never fails. After all, who has ever needed a reason to receive a gift? Maybe send it out with larger orders as a thank-you for your customers' patronage.
3. Décor
This is more for our readers who own a physical store, or other place of business that allows customers to enter (such as a car wash or hairdressing salon). We've all seen mugs with the store logo printed beside registers, as placeholders on shelves, or available for customers to purchase.
Nowadays, more and more businesses are realising the importance of aesthetics. We see this applied to storefronts, logos, and décor throughout the shop. Many promotional mugs are used to advertise, and their success largely relies on the aesthetics of the design. Obviously, mugs are practical, but appearance matters too.
Make your personalised mugs look beautiful enough to be conspicuously displayed in your store or place of business, and your customers will notice. They might just ask for one to take home!
4. Host a Design Competition
You must have heard of big businesses that host competitions to allow customers to choose the latest products, or even name them. One of the most well-known examples of this is the crisp brand Walkers. Over the years, they've held several polls allowing their fans to choose new flavours of crisp to go on sale – whether taking suggestions from the public, or simply allowing them to vote on predetermined choices.
These kinds of competitions definitely get people talking about and sharing the company on social media. There's no reason why you can't do a similar thing, but with a company mug – allow your customers to submit their own design for it!
You could make it a children's competition, or targeted more towards adult artists. Choose the winning entry yourself, or allow the public to vote – and have the final design printed on promotional mugs. Let your customers order them for personal use, and display them around the office proudly! (Just make sure you obtain copyright for the image before using it.)
5. Unconventional Uses
There are always people who don't want more mugs in their homes. Here is where we circle back to the importance of a beautiful design and decoration.
Remember in tip #3 we discussed the idea of making your promotional mugs a decorative staple in your store? We can take it a step further by making unconventional uses out of them. For example, why not use your company mugs as succulent planters, or holders for dried flowers? For around the office, they can also be used as pen and pencil holders.
If you're in the food industry, promotional mugs make great tip jars. You could also jump on the latest trend of "mug cakes" – take a promotional photograph of an employee eating a mug cake out of your company mug, and share it on social media! It's all great fuel for brand awareness and recognition.
6. Parade Your Values
Sharing your company's core values and beliefs, especially when it comes to social issues, is one of the best ways to gain loyalty. Today, there are so many opportunities to show what your business is about, other than making products and profits.
Do you value feminism? The Black Lives Matter movement? Perhaps you want your company to show its support for LGBTQ+ rights? You name it. Now put that on your branded mugs and let your customers know what you care about. You can even connect with one of the organisations behind one of the causes and make a fundraiser out of a mug sale.
Make a slogan for that cause side-by-side with your brand. Throw in that basket with hot cocoas and marshmallows in there, and that's a promotional mug people are willing to buy.
It's not just promoting your business, but a valuable cause for a better society. Now your business also has a conscience that connects with people.
7. Anniversary Mugs
Anniversaries make people excited and nostalgic. We celebrate anniversaries to remember special occasions marked by dates. Within a business, there are anniversaries around every corner.
So, why not add an anniversary series to your collection of promotional mugs? For example: employment anniversaries for your senior employees, customers' birthdays, membership/subscription anniversaries, or even the anniversary of the day you opened your business. Give them away with a congratulatory email or a promotion, and your clients (and employees) will feel loved and appreciated.
8. Advertise a Promotion or Sale
Sales and special promotions are super important for almost any business – especially those that sell products directly to the public, whether that's through the internet or a physical shop. The lowered prices draw in new customers, who then become repeat customers if they like what you offer – even when you put your prices back up.
Most businesses, when they want to advertise an upcoming or ongoing sale, will default to sending an email out to their mailing list, or advertising through social media. But emails end up in spam folders all too often, and when was the last time you really paid attention to a Facebook ad? Can you even remember the last ad you saw?
What if that advertisement, however, was on a free mug? I'll bet you'd remember it then. Design a mug advertising your latest sale and hand them out for free – outside your place of business, for example, or on the street. Just check with your local council first!
Where Can I Order Personalised Mugs?
Everyone's got a go-to mug that they'll choose other any other for their hot beverage. There's no reason your company mug can't become your customers', clients' and employees' favourite!
Order your personalised promotional mugs today through 123Print. Choose from dozens of single-image or wraparound templates – or create your own design from scratch. You can upload your own artwork and customise the text, font and colour to your liking.
Our easy editor is extremely simple to use, and you'll be shown a preview of your mug so that you can ensure it's perfect before ordering. With our 100% satisfaction guarantee, you can rest easy in the knowledge that you'll love our products!
Comments