Have you ever bought something – or not bought something based purely on its colour? I'm sure, from a gent's point of view, many of us have opted for those shiny blue wellies over the pink flowery wellies and what's that? You only have a white iPhone 6B left in stock? Hmm, yeah I'll come back next time.
Colour based decisions are part and parcel of everyday life. Colour shapes everything we see and since our childhood we have all had colour prejudices placed into our subconscious thinking, affecting our everyday decisions – for life.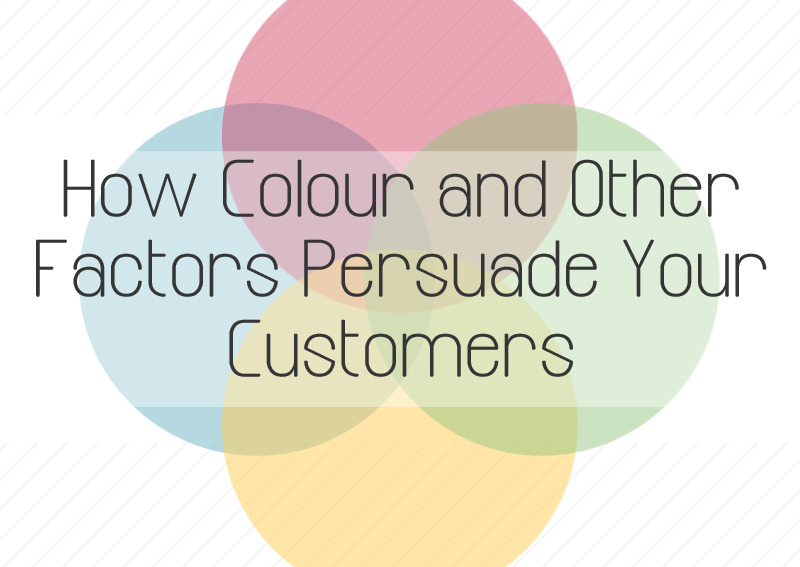 So when it comes to selling it's interesting to note that the colour of the product, branding or store affects over 85% of the buying process. That's a huge percentage of buyer decisions based on colour and it's important that we match our colours with our target market.
Thankfully, the guys over at Kissmetrics have created a fantastic infographic detailing the breakdown of each colour including how they make us feel and how they can affect our buying process.
We've also pulled out some of the other interesting facts detailed in the infographic and applied them to printed products for clarity. Take a read, and let us know what you think in the comments.
Place importance on the visual appearance and colour of your printed products over other factors
Colour, as mentioned above, is crucial in the buying process. Research by Kissmetrics found that over 93% of consumers place the visual appearance and colour of a product above other factors when shopping.
Thus, as you can imagine ensuring that you are using the right visual cues when designing your printed products is going to be crucial, in persuading your customer to contact you or buy from you in the future. Colours, individually, have their own voice and can convey a range of messages and meanings that affect the consumer's decision making.
Take a look at this basic breakdown of colour connotations in brand logos below (for the western hemisphere). What does the colour of your product or brand say?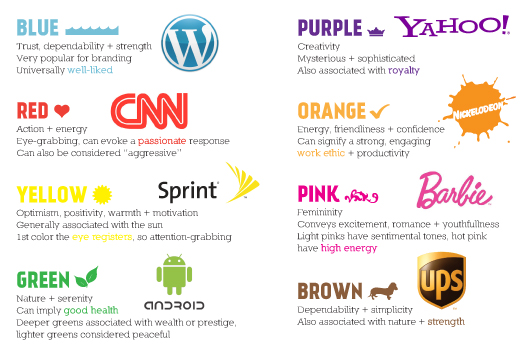 Let's take a look at these business cards below from local life coach Sarah, who has thankfully supplied us with the picture, and try to break down what the colours say to potential consumers.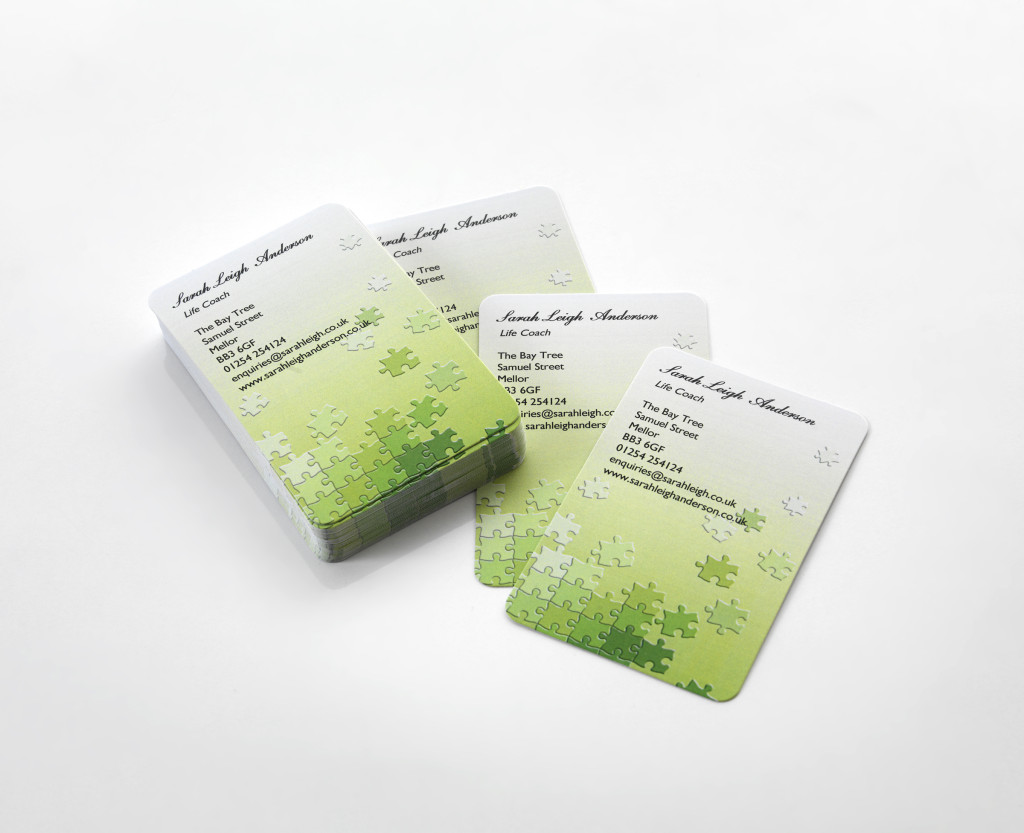 There are two main colours featured in these business cards. A light green and a white.
Using the colour connotations above we can say that:
Green – Conveys a sense of serenity, good health and peace.
White – Conveys a sense of trust, honesty and strength.
Sarah's business cards convey a sense of good health, trust and peace. With Sarah's business centred on providing life coaching on a range of health issues, conveying an aura of good health, a bringer of peace and adding a sense of trust will be key to persuading consumers.
What do your business cards say about you? Still struggling? Take the Quiz.
The Colour of Your Brand Logo is Crucial
Just as the colour of your products give confidence and persuade the consumer, the colour of your brand logo also develops consumer confidence and persuades consumers to use your service or product. Research by Kissmetrics found that over 80% of consumers depend on the colour of a brand logo for brand recognition, and it's important that you align the colours of your logo with the colours that give your target market confidence in your brand.
Can you guess the brands behind these logos without their names?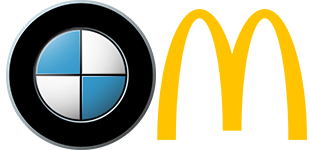 To see the importance of colours in action, let's take a look at the 123Print Logo and try to break down what the colours say to potential consumers.


There are two main colours featured in our logo. A strong orange and a dark blue.
Using the colour connotations above we can say that:
Orange – Conveys a sense of friendliness and energy.
Blue – Conveys a sense of trust, dependability and strength.
The 123Print logo conveys a sense of friendliness, trust and dependability. With our business being centred on business promotional products and business stationery, conveying a sense of consistent dependability and friendliness is key to persuading consumers and improving consumer confidence.
What does your logo say about you? 
Use the right colours to attract the right type of customer

As well as colour being your chance to convey your important brand messages to customers, research by Kissmetrics found that colour also has the unique ability to change shopping behaviour and attract specific groups of consumers.
Colours like Red, Orange and Black have been proven to make shoppers more impulsive. Think about Sale signs in shops which are usually standing out in a dark shade of red or bright neon, or even the term "Black Friday" a mainly US holiday in which some retail stores make massive discounts before the Christmas holidays.
Colours like Blue, Teal or Yellow have been proven to attract more shoppers on a budget. Often they are avoided at all costs in high end department stores, but frequently used to the point of subliminal messaging in advertisements for stores like Primark and Asda.
Colours like Pink, Sky Blue and Rose have been proven to have an emotional attachment and quite often consumers will keep a pink, sky blue or rose coloured bag for long periods of time after the purchase.
How can you use this in your business card?
Understanding how the colour of your business card can affect the consumer's behaviour is huge. Using colours like Orange and Black can make the end user more impulsive and colours like pink and sky blue can help create a consumer attachment to your business card and consequently your brand.
Use Power Words In Your Business Card Design 
Do you own a store, shop or even a hairdressing salon? What's in your store window right now? Products, opening and closing times, maybe even a detailed pricing list of every service or product you offer? Research by Kissmetrics found that using "power words" like Sale, Guarantee, Quick or Unique in your shop windows make it 52% more likely consumers will enter.
What is a power word and why do they work?
In action, and applied to the right products or service, power words trigger emotions that are deeply set within us since childhood. Simple, often short words that we clearly understand grab our attention and have strong emotion connotations; thus making it easier to persuade us.
For example: the often thrown about phrase "Lifetime Guarantee" refers literally to the guarantee that the product will not break over time. However, when you use the words "Lifetime" and "Guarantee" the consumer can begin to imagine the product over a period of time and it triggers the emotional guarantee that persuades the consumer to buy the product.
How can you use Power Words in your business cards design?
If they're good enough, and proven to work in stores, it would be reasonable to believe that using power words within your business card copy or promotional products would make it easier to persuade customers to use your service.
Use these Power Words below.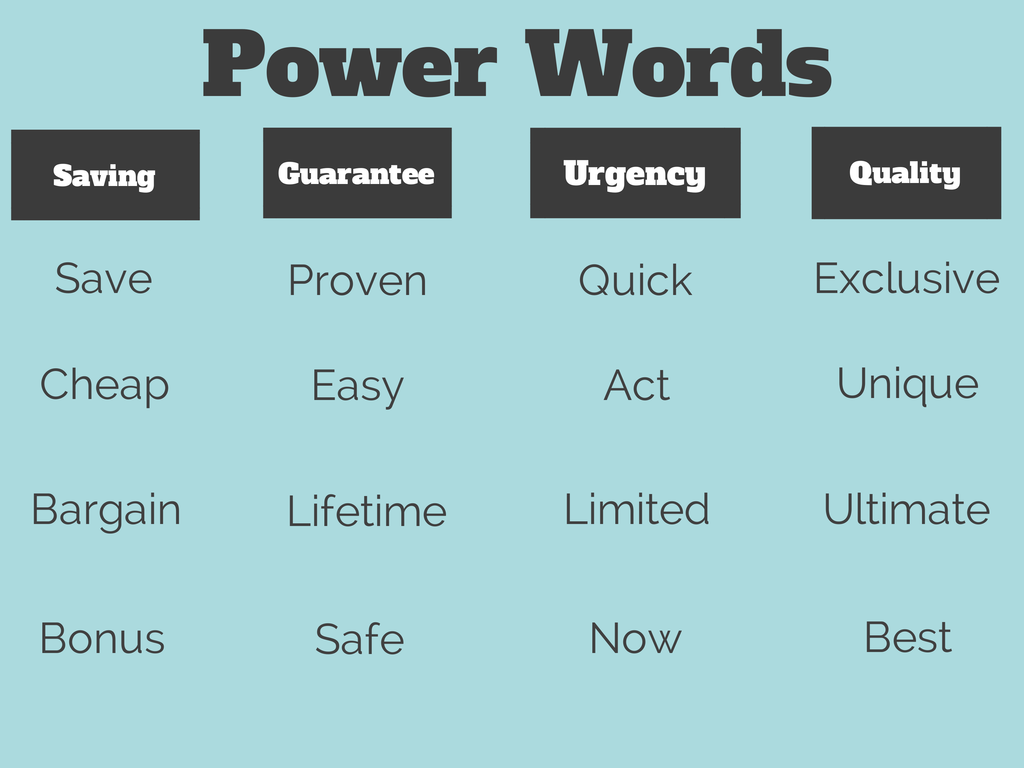 Conclusion: Colour is More Than Just a Pretty Design
The colours that you choose to design your business cards or stationery can have a huge psychological effect on the consumers buying process. It's more than just a design issue of what you think looks nice, but rather a clinical approach to helping persuade consumers to buy from you.
Start by choosing from over 10,000 colours in our new and unique colour palette which can produce business cards in nearly every shade and hue imaginable.
Comments