In business your image and how you appear to your potential client or customer is everything. As a small business who works with a select number of clients, this may have worked to your advantage in the past. No doubt you have thrived on the friendly one to one service only a true small business owner can provide. And the work, well, no one works harder than a small business owner.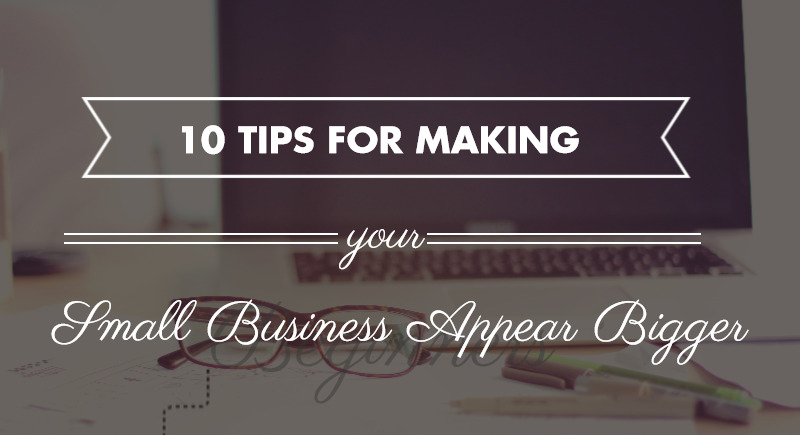 Yet as your business grows and the temptation for you to branch out of your small business shell and compete with the big boys builds, so does the importance of rebranding yourself as a competent and credible competitor.
You want to appear just as professional, trustworthy and confident as your larger competitors and as you compete with them for new customers, it's important that you give customers the confidence to try an unknown, smaller business.
It's like graduating from Primary School to High School. Gone are the days where you swanned around the playground without a worry in the world; it's time to tie up those shoelaces, puff out your chest and make yourself look bigger than you really are.
From a simple manner change in your day to day client conversations to changing your business name, read our 9 tips for making your small business appear big…
1. Create a Logo




It may be something you've thought about in the past and put off for other more lucrative activities, but a logo is your first step to appearing more professional and thus bigger. Generally the more you're willing to spend on a logo will equate to an experienced designer who has the ability to create a quality logo that really represents you.
Remember that a logo is going to be your customer's first impression of your business and thus it's important that you opt for a high quality logo that has been created by a professional designer, rather than creating one via a logo generator. It's also important to remember that a logo has to look good for a customer and not necessarily just for you. A high end logo designer with years of experience will be able to advise you on colours, fonts and a design that should resonate with your target market.
Find Logo Designers on:
– Elance
– Behance
– 99Designs
– Twitter Networking Hours
2. Change your Business Name to reflect growth




As a new business owner it's common to be proud of your early achievements and register your business name under your own first name. Derek's Estate Agency. It's a proud moment for you and you will no doubt hold this name dear to your heart. Yet as your business grows and your urge to compete with bigger companies also increases, it is more important that you change your business name to acknowledge this. Whilst Derek's Estate Agency was great when you were content with a small number of dedicated clients, as you attempt to grow your business the inclusion of a forename gives the impression of a very small business – which is being run by one man called Derek. Not the exact impression a client may be looking for.
If you don't want to go down the route of creating a whole new business name and would rather stick to your personal touch, change your business name to your surname. Barnes Estate Agency has a much more professional appeal than Derek's Estate Agency and furthermore even utilising an ampersand like Derek & Barnes Estate Agency can help achieve a far more professional and sophisticated impression.
3. Register a Company Branded Email Address


Still working from an old Gmail or Hotmail account created 5 years ago? If so, it's time to make a change. Not only does a Gmail or Hotmail account remind people that you're a small business, but a potential client will see you merely as a freelancer providing cheap services they require, rather than a professional business offering quality services they can't afford not to use.
Enhance your professional image by creating a branded email address with:
4. Utilise Well-Designed Letterheads


From billing clients to distributing contact details and beyond, you will undoubtedly at some point deal with customers via paper. Whether that's via postal letters or in person, it's important to convey a sense of professionalism with a well-designed letterhead.
For a small business trying to make itself appear bigger, a letterhead is absolutely essential. Most written communication with clients will be of high importance and thus utilising a letterhead shows credibility and gives potential clients and customers confidence in your business.
Additionally, a letterhead also encompasses your logo and/or branding and can help with promoting and advertising your services. A letterhead will also include postal details, phone numbers, email addresses and websites and will generally help customers keep in contact with you easily.
5. Set up and update social media channels frequently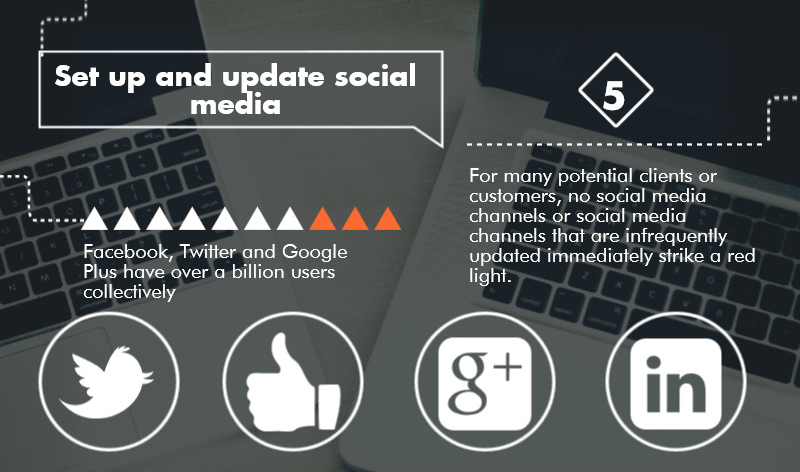 I'm sure you are no stranger to social media. Online social channels like Facebook, Twitter and Google Plus have over a billion users collectively and every company, from your local butchers to your neighbour's home hairdresser service, is using some form of social media marketing.
For many potential clients or customers, no social media channels or social media channels that are infrequently updated immediately strike a red light. Not only are they a great chance for your potential client to 'check you out', but they also offer great social marketing opportunities and can be great for customer referrals.
If you're looking for further advice on Facebook, Twitter, or Google Plus marketing read our guides.
6. Develop Email Marketing Templates for Offers


As your business grows, so does your opportunity to develop email marketing strategies. It may be something as trivial as a friendly local newsletter or it could be your latest sandwich offers of the week; whatever your strategy email marketing should be backed up with quality, professional looking templates.
Drop the typed out offers from your personal Gmail account and sign up with one of these providers:
Pure360
MailChimp
Adestra
Smartfocus
dotMailer
For a rundown on the benefits of each of these email providers read our guide here.
7. Hire a Telephone Answering Service to take your calls




You may think this is only an expense for large businesses, but for small businesses trying to appear bigger and more professional – taking on a professional telephone answering service could be an effective strategy. As a small business owner you will no doubt be getting your hands dirty in the day to day running of your business and services. With this in mind, you just don't have time to take enquiries or deal with everyday calls all day every day. The truth is, you shouldn't need to! As your business grows, it makes sense for you to let other people deal with incoming calls and hiring a receptionist, or using an answering service will help you appear bigger and more professional to your prospective clients and customers.
Look into services provided by:
Face for Business
Jam
Penelope
Hire a Virtual Assistant
8. Create a Professional looking Website


It sounds like common sense, but creating a professional looking website can be a great way to help your business appear more professional. Credibility and confidence will flow when you utilise a functional website and it also gives potential clients an opportunity to gain information on your services or business without having to contact you directly.
Now, creating a professional looking website may sound expensive. But with a little research, you'll find many freelancers will create a simple, functional and professional website for under £100. If you're feeling a flutter of design inspiration you can also try to build a website yourself with one of these platforms:
WordPress
Moonfruit
Wix
Doomby
SquareSpace
For a rundown on the benefits of each of these platforms read our guide here.
9. Replace the 'I' for 'We'


It's a simple grammatical change, but one that can take your business from Derek could sell your house to Barnes Estates can get you the best price. Approach emails, letters, website copy, social networks and any other customer-facing content with the term WE instead of I.
WE gives the impression that there is more to your business than just you and that whilst you value a personal touch, you consist of a team of people waiting to take on business. Similarly, you should try to avoid admitting you will be doing all the work. As a small business owner you are bound to the many hats that come with running the whole show, but to a client you need to give the interpretation that you have every area of expertise available in house.
10. Take a Lesson from Brazilian Entrepreneurs


Customers are increasingly becoming reliant on cards to make purchases and the days of carrying cash as a main payment form are growing less and less with every passing day.
As the beaches of Rio and São Paulo filled with tourists and the football elite for the World Cup 2014, it was the entrepreneurs of Brazil who quickly cottoned on to the promise of accepting card over cash.
Whether it was the fear of robbery or just the changing of the times, the beaches of Brazil have been transformed into no cash zones and card payment has become the accepted norm.
14 hours away and back in the UK, we think any business trying to break out of its small business shell and appear as a big business, should be favouring card payments as the primary, if not sole, method of payment for customers. From Window Cleaners to Burger Vans, offering a card only payment not only essentially secures your money, but it helps your business to promote its professionalism and authority.
Accept card payments with one of these services:

Comments